Coptic Studies Library
The Coptic Studies Library brings back to active circulation major reference works in the field of Coptic studies, including dictionaries, grammars, text editions, manuscript catalogues, and monographs. Many of the books were reproduced from originals at The Catholic University of America, one of the largest collections of Eastern Christianity in North America.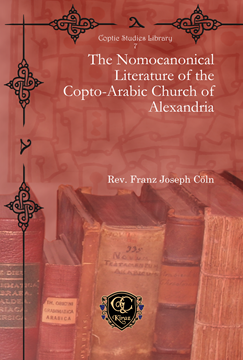 Nomocanons (manuals of law) in Eastern Christianity give insights into the whole civil and religious life of communities, families and individuals. Nomocanonical literature is particularly abundant in the Coptic tradition, and the Rev. Franz Joseph Cöln describes five Nomocanons of the Coptic Church with a short account of their contents.